introduction
A study is ongoing to try to understand the specific differences between FLUKA and Geant4 simulations. Comparison to data are pursued wherever possible, although data is difficult to produce and not very abundant at present.
Geant and FLUKA versions
It is important in such a study to be very specific about what physics models are involved in simulations. Typically this is stated through version numbers of either Geant4 or FLUKA. Formally this is not enough by itself for Geant4 since the physics list is modular and can be changed even within one compiled versions. For now a simple specification of the versions used in this page are included, to be updated and made more specific later:
Geant4.9.3: without muon-nuclear turned on

Geant4.9.3+: this is a version of Geant4 which is Geant4.9.3 with the "shielding" physics list (implemented in v4.9.4) and a new muon-nuclear interaction (to be implemented in v4.9.5) have been backported

FLUKA 2011.2.5
geometry
materails
plots
Several of the more important plots can be viewed below in separate sections and additional plots are available here.
muon primaries
capture plots
For the scintillator material composed of C9H12 which has density 0.887 g/cm3 which is similar to the Borexino scintillator, several plots have been produced.
Several of the more important plots can be viewed below and additional plots are available here.
for 280 GeV muons the time to capture on hydrogen is plotted below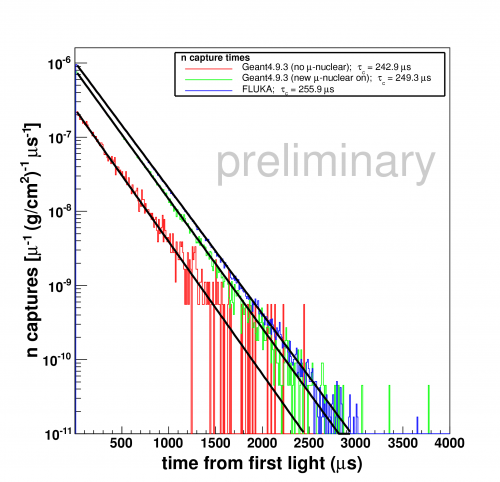 for 280 GeV muons the radius at which the hydrogen capture takes place is plotted below, the distance is computed from the axis of the cylinder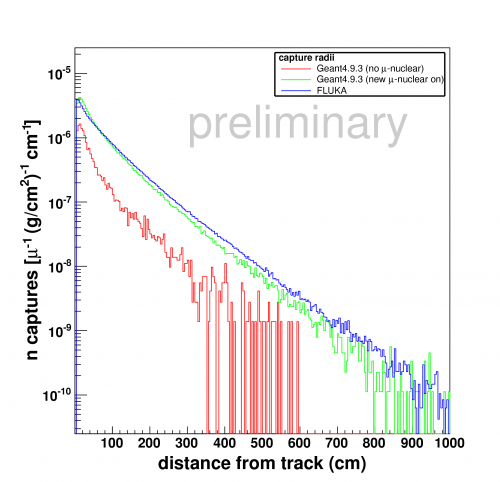 for 280 GeV muons the multiplicity within each event of hydrogen captures is plotted below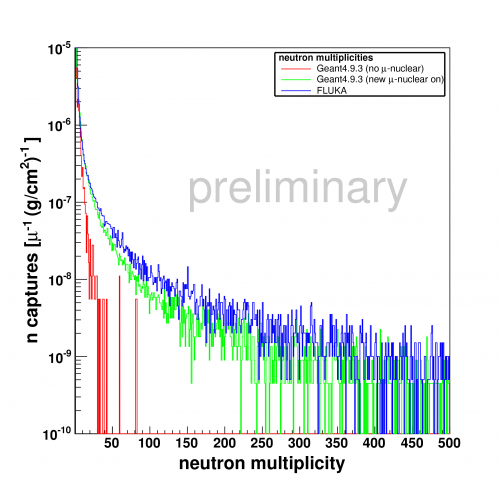 energy flux
As muons propagate through a cylindrical volume they begin creating neutrons and eventually the flux through the cylindrical area comes to constant. This means in the first small percentage of the cylinder the flux is increasing and after that one can reliably extract the flux. Below we plot the integrated flux (over the whole 10m sensitive cylinder) as a function of energy.
Several of the more important plots can be viewed below and additional plots are available here
for 280 GeV muons and Borexino scintillator we plot the integrated flux as a function of energy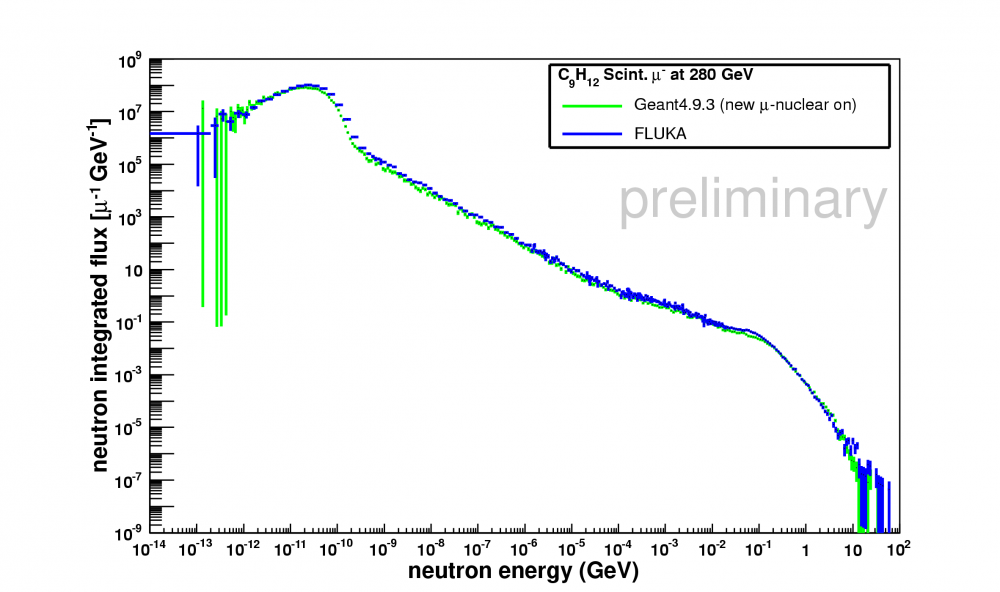 for 100 GeV muons and lead we plot the integrated flux as a function of energy