Table of Contents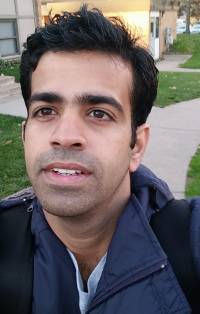 Subramania Athiray Panchapakesan
Postdoctoral Associate
University of Minnesota
Research Interests : My prime research interests are in the study of high energy phenomena of star- planet systems and associated space-science instrumentation development for space borne experiments.
Education
PhD - Indian Space Research Organization (ISRO) / Indian Institute of Astrophysics (IIA), Bangalore, India. - 2015
Thesis Title : Study of lunar surface chemistry using Swept Charge Devices
---
Projects and Missions : Roles and responsibilities
Focusing Optics X-ray Solar Imager (FOXSI)FOXSI-3 : Sounding rocket experiment to perform imaging and spectroscopy of the Sun in hard X-rays (HXR) using direct focusing X-ray optics
X-ray instrumentation and Team management : I play a lead role in managing the FOXSI-3 detector team at the University of Minnesota. Planning and executing calibration experiments of focal plane X-ray detectors. Participated in the testing and calibration of FOXSI X-ray optics at Stray light facility, Marshall space flight center and contributed to the analysis of optics calibration data. Demonstrated an improved way of calibrating FOXSI detectors using thin foil X-ray fluorescence.

Solar science : I study the plasma distribution as a function of temperature for the FOXSI-2 observed microflare regions. For this work, I perform a combined differential emission measure (DEM) analysis using EUV data from SDO/AIA, SXR data from Hinode/XRT and HXR data from FOXSI-2.
Chandrayaan-1 X-ray Spectrometer (C1XS) ESA/RAL, UK, ISRO, India : X-ray fluorescence (XRF) experiment on India's first Moon mission, Chandrayaan-1, to study the surface chemistry of the Moon.
Lunar X-ray studies : I played a major role in the X-ray spectral analysis of C1XS data and determination of lunar surface elemental abundances. I have developed a new XRF inversion algorithm "x2abundance" and rigorously validated it using laboratory XRF experiments. My thesis work describes the first direct evidence of enhanced Sodium surface abundances on the Moon
Chandrayaan-2 X-ray Spectrometer Collaboration
ASTROSAT :
---
Awards and fellowships
National Merit Scholarship, University Grants Commission, India : 2003-2005

Department of Science and Technology (DST) Research Fellowship : 2008-2009

ISRO - IIA Research Fellowship : 2009-2015

LPI Career Development Award : Lunar & Planetary Institute, NASA, USRA : 2014

K. D. Abhyankar Best Thesis Presentation Award : Astronomical Society of India. : 2016
---
List of publications - source Google Scholar